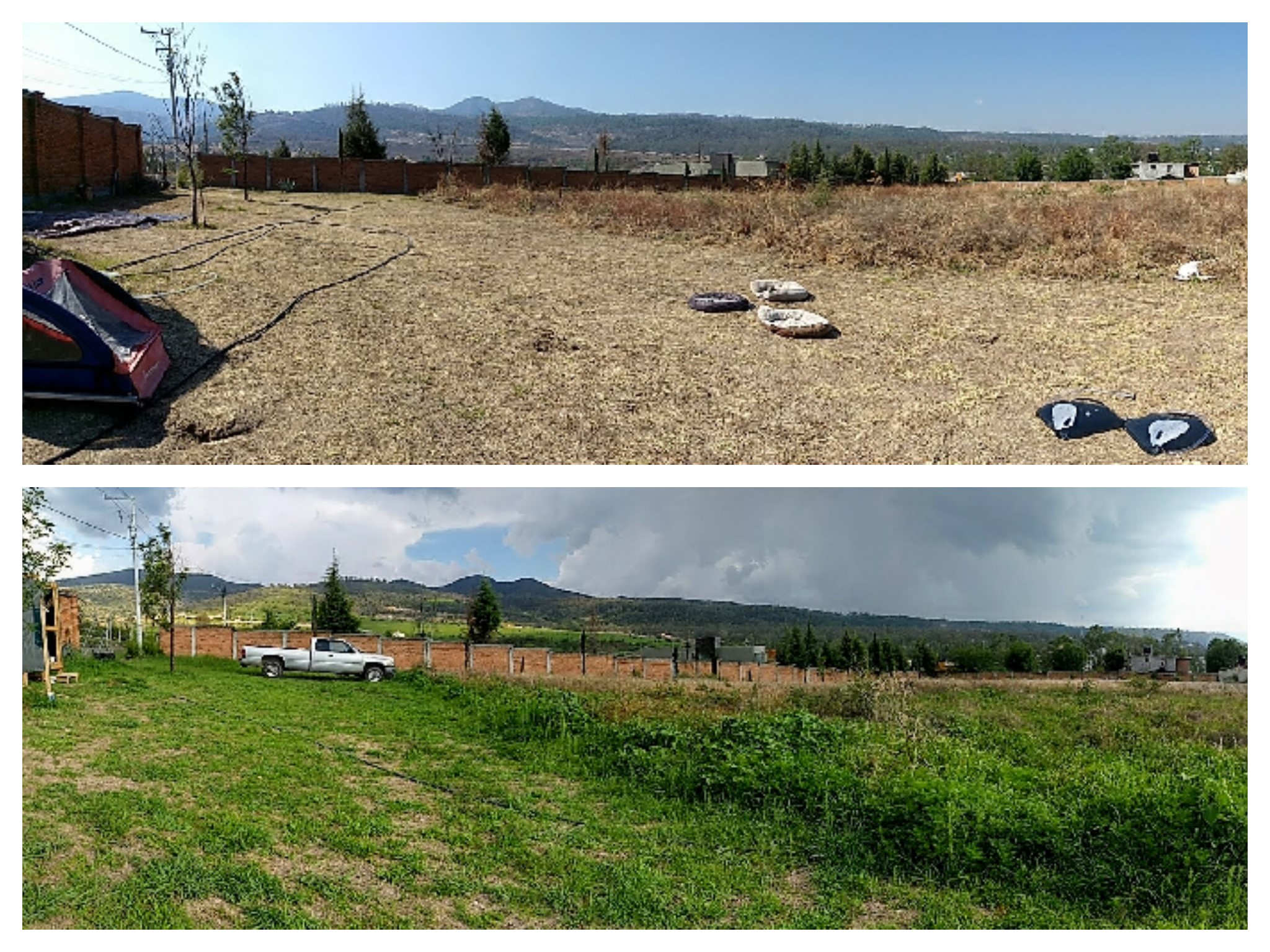 We arrived late in the dry season and three months later this place has bloomed! Check out the difference between the cusp of March and April and the cusp of June and July:
Standing near the gate, looking along the east wall at a row of agave azul and evergreens.
This tree was at Edith's cousin's house and got knocked over, so Stan replanted it. This Sangre Libanesa took longer to leaf out than others in Morelia this year, but it looks hearty now.
We harvested most of the limes so the tree would put energy into rooting and branching. They were tart, not ripe. Now the tree has blossoms, but the grasses are the obvious change here.
RIP cat from my uncle's neighborhood. We used some of the rocks covering the grave in other projects on El Terreno - no one ever tried to dig it up.
Facing NW, you can see more of the land, which can (and has) gone up in flame. So they cut that swath around the edge to protect the trees. That safety perimeter is disappearing but we have a weed-wacker-ish-tool to use if we can't figure out how to safely keep a couple goats or sheep first.
This tree was here when my uncle bought the land 20 years ago, and has survived at least one fire.
The bamboo has cucumber company now. In three more months you'll see it!
---
3 Comments:
---

July 06, 2018
What GREAT photos–lovely to see the green transformation!
---
July 09, 2018
reminds me of India pre- and post-monsoon. Such a difference!
---
July 11, 2018
Yeah, huge difference! Just think what another month or two of rain will do! It's actually about time to mow/weed whack, since we haven't managed to get goats or sheep. A scythe would be ideal but we'd have to buy one, and there's already a weed-whacker thing here. So that's where we'll start. And once the plants dry they'll be great mulch.
---
Post a comment: