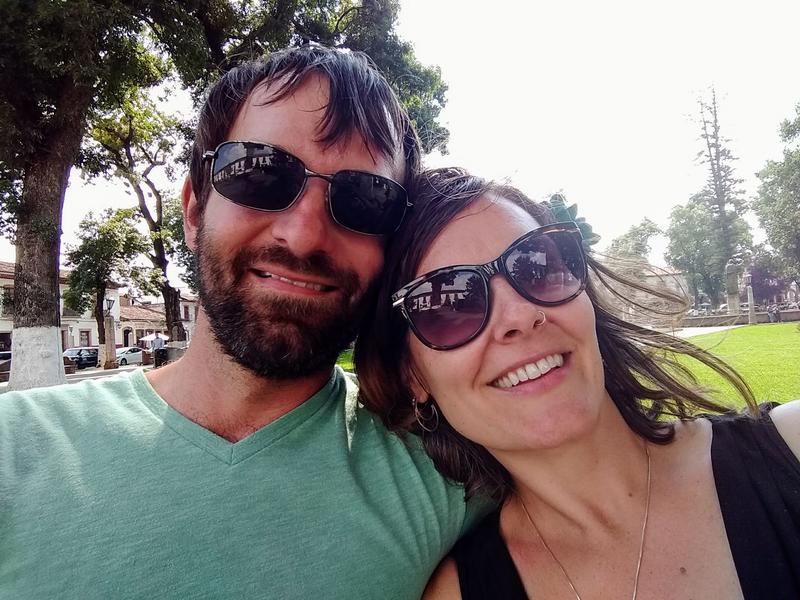 A couple weeks ago our uncle asked when our anniversary is. We looked at each other and easily answered "July 23" as we realized that's this month. I said, "We're not sentimental."
But when I got back from a walk Phillip asked, "Guess what we can do for our anniversary?" Turns out a pet-friendly B&B in downtown Morelia can be as cheap as $24/night. He'd already booked it. Romantic!
We're going today so we can walk Madero with the dogs tomorrow, a Morelia bike/walk-friendly Sunday tradition since 2010. Probably the only time we can all wander this main drag carefree since the local dogs will be on leashes and the loud, stinky vehicles are banished.
Leaving the dogs in the B&B while we go for dinner tonight doesn't seem like an option (have you heard Booker and Hannah cry for us?) so we'll find an outdoor cafe and a table for five. Not really, two chairs and one water bowl will work. Or someone can go get tacos while the other uses all the hot water.
Phillip was careful to request a room with a private, rather than shared, shower. We won't take this luxury for granted.
For unsentimental people we have a lot planned for our anniversary this year. On the actual day, Monday, we're going to get sore.
---
2 Comments:
---

July 21, 2018
This is GREAT!!!! I'll confess I had given no thought to your upcoming anniversary until Deanna mentioned something about it at AC. In a way, today feels like it should be the anniversary. I think I'm glad we had hot weather the day of your wedding rather than the rain of today! Btw, the Monday link doesn't work.
---
July 22, 2018
How WONDERFUL! Happy Anniversary!
---
Post a comment: