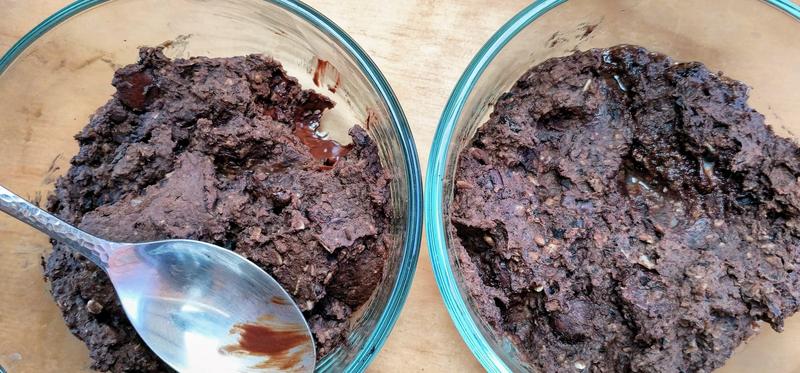 Cake
1 cup flour (above picture was version with oats, slightly ground, can use ground nuts…of course, white wheat or cake flour offer the lightest texture)
1/2 t baking soda
1/2 t salt
1/2+ c stout beer
1/4+ c milk
1/2+ cocoa powder
3/4 c sugar
3/4 coconut, olive or vegetable oil
1 egg
1 t vanilla
Frosting
1 stick butter
1/2 c sugar
Pinch salt
2 t vanilla
2 T Irish whiskey
Milk, if needed for consistency
Preheat oven to 350 and prepare 12 cup muffin pan or 9" cake pan
Heat beer and milk in small saucepan over medium heat until hot but not boiling. Pour oven cocoa powder in large bowl and whisk until smooth. Set aside to cool.
Whisk sugar, oil, egg and vanilla into the cocoa mixture.
Bake until toothpick comes out clean (or a little wet if you prefer underbaked cake), perhaps 20-25 minutes.
Cool in pan 5 minutes, then cool on rack.
Beat butter, sugar and salt by hand or with mixer until combined. Add vanilla and beat until creamy. Add milk if needed and then whiskey. This is a generous amount of frosting.
This is already an adult cake, though you can skip the whiskey for family-friendly dessert. But we like making it a mature cake by adding to the batter:
1 t cinnamon
1/2 t cardamom
1/2 t ginger
1/8 t cloves
1/8 t nutmeg
all ground, of course
With these sweet spices you can reduce the sweetener, too! If you want more nuance, try pear chocolate cake.
---
2 Comments:
---

January 21, 2019
Gee, and my (first) baking venture this weekend was a box brownie mix from Rabers–shameful! But then I made an apple cake from scratch using Indiana apples. I look forward to trying this chocolate cake recipe the next time I get a baking itch.
---
January 21, 2019
i'll always have a weakness for box brownies:-)
---
Post a comment: