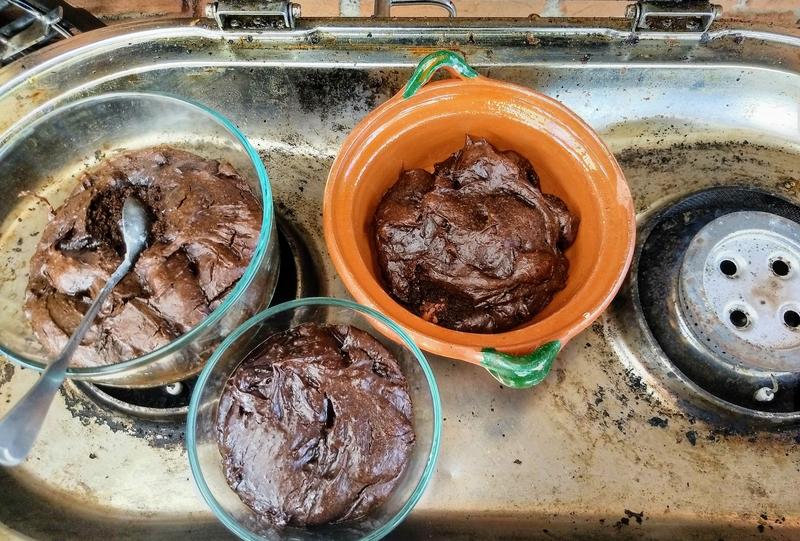 How to make brownies in a grill
Though chocolate has been in (what is now called) Mexico longer than almost anywhere else, we are partial to foreign chocolate processors, such as (formerly indepedent) Sharffen Berger's, which we like in 70% though might be more popularly pleasing in 62%.
Our favorite way to eat chocolate is brownies: a hassle in a grill, but still worth it. We like variations (avocado, caramel, etc.) but our classic recipe is based on our friend Radha's, which she apparently got as "tasty brownies" from buzzfeed. We thought we were in touch with the hip and hot world of chocolate, but learned about these from an 11-year-old (at the time) in Pune!
Our variation (less sugar, extra cocoa powder, add nuts, add frosting) are "Radha brownies":
INGREDIENTS 8 ounces good-quality chocolate, at least 60% or up to 90% (divide in half) ¾ cup butter, melted ¾ cups sugar 2 eggs 2 teaspoons vanilla ¾ cup all-purpose flour 1/2 cup cocoa powder 1 teaspoon salt 1/2 cup pecans or other nuts
METHOD
Break chocolate into chunks. Melt half, set aside to cool.
Mix the butter and the sugar, then beat in the eggs and vanilla for 1-2 minutes until the mixture has become fluffy and light in color.
Whisk in the reserved melted chocolate (after chocolate is not more than warm, so the eggs don't cook), then sift in the flour, cocoa powder, and salt.
Fold dry ingredients into wet ingredients, mixing as little as necessary.
Add in chocolate chunks and nuts, then transfer the batter into several small containers (for a grill) or a parchment paper-lined square baking dish (for an oven).
Bake 15-20 minutes in a 350 degree oven, or as long as it takes in a grill (takes us at least 40 minutes) until your desired texture.
After cool, frost if you wish.
FROSTING OPTION 1/3 cup crema (sour cream, cream cheese or butter would work) 2 T peanut butter 1 t vanilla 1 T maple syrup or sugar
Mix together and spread.
---
Post a comment: