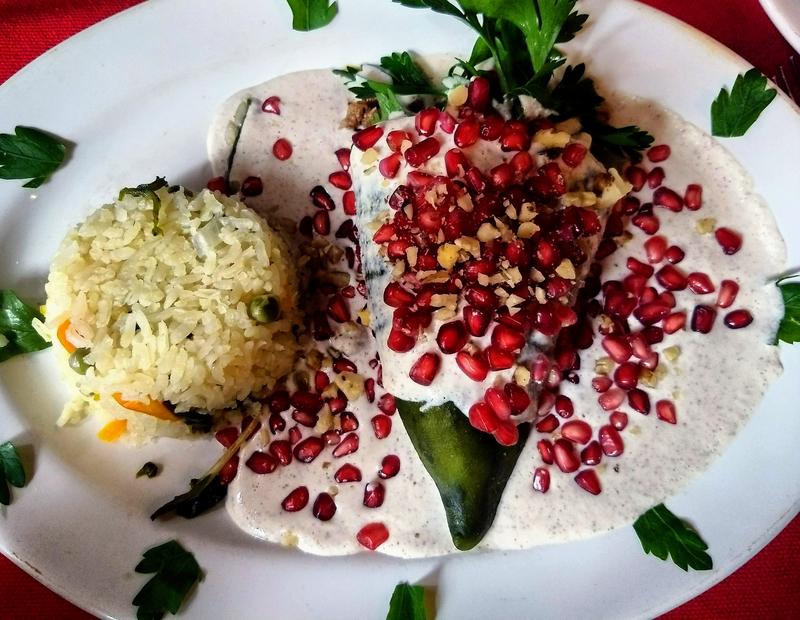 'Tis the season for green, red and white, so I'm borrowing chiles en nogada from Dia de la Independecia for Feliz Navidad.
I cooked it while visiting family in the US because we had 1) chorizo and 2) pomegranate, so we declared the conclusion to be chiles en nogada. Peppers in a nut sauce. Walnut, specifically, though perhaps other nuts would do since nogal is nut tree.
I used an adaptation of Laura Esquivel's recipe from Like Water for Chocolate which is the first way I learned about this dish. If you haven't read Like Water for Chocolate yet you might want to open a new tab and check it out from your library now. (Or watch the movie, which is excellent).
Like Water for Chocolate has recipes, but it's not a cookbook, so I was glad to find the adaptation. I refered back to Esquivel's recipe, too, and she (well, Tita) says you must take all the skin off the walnuts or the sauce will be bitter. In the book this takes days (they're making for a crowd, after all).
I'm a lazy cook, and I'm not a picky eater, so I decided to chance it.
Bad idea - take the skins off, our sauce was bitter. Still enjoyed the dish, though.
The pictured platter was from an excellent restaurant in Patzcuaro and I'm sure they used skinless walnuts.
---
2 Comments:
---

December 29, 2018
Guess what I found at Lance's last week! Poblano peppers!
---
January 07, 2019
That's great! Did you get them? Here they're so cheap, like 1/4 the cost of a bell pepper. I doubt that's true at Lance's?
---
Post a comment: