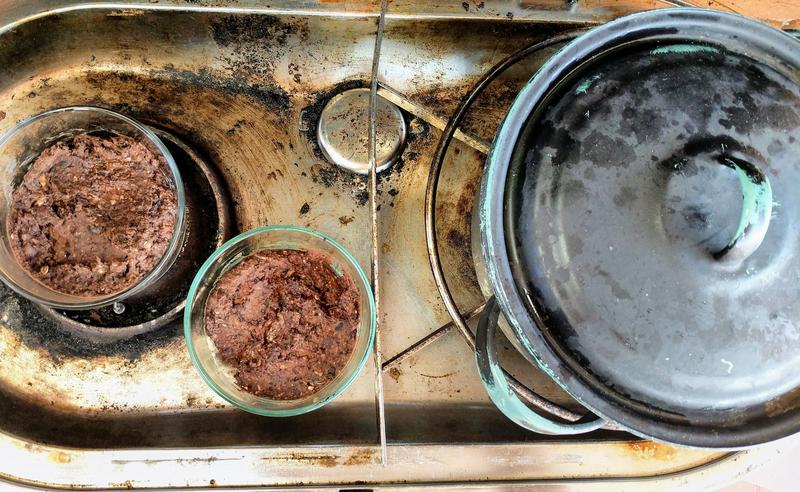 Can't think of a better Christmas present than these black bean brownies:
Gluten-free
Sugar-free option
Easily vegan
No eggs (no worry about underbaking if you like brownies gooey or you're trying to bake without an oven)
Delicious
(Plus they have hidden nutrients!)
1/2 c oats (quick or normal are fine, as you prefer)
2 T sugar/sweetener
1/4 t salt (to taste)
1/2 t baking powder
2 T to 3/4 c cocoa powder (original recipe says 2 T but we used 3/4 c since we prefer serious chocolate)
1 (15 oz) can black beans, or about 1 3/4 c (if you are cooking yourself, say, in a sleeping bag!)
1/3 c maple syrup
1/4 coconut oil, olive oil or butter (or more if you raise the cocoa powder significantly)
2 t vanilla
1 c chocolate chips (divided)
Definitely use a food processor for the sake of texture. The oats are more enjoyable when turned close to flour. And the beans will be a secret ingredient if you blend them into such small pieces that no one can distinguish them in these moist, fudgy brownies. (Are you surprised we can use a food processor offgrid? Phillip rocks.)
We adapted this recipe from the Inglenook Dessert cookbook which we highly recommend.
This is for an 8x8 pan in a 350 oven, or if you live in a van/don't have an oven, bake as best you can.
Process all ingredients (except chocolate chips) until completely smooth. Use a blender if you don't have a food processor.
Stir in 2/3 c chips and pour into pan.
Sprinkle remaining 1/3 c chips on top.
Bake ~15 minutes (to taste).
Cool before cutting. If they're too gooey, put them in the fridge. Of if you live offgrid and it gets cold at night, just wait.
---
Post a comment: