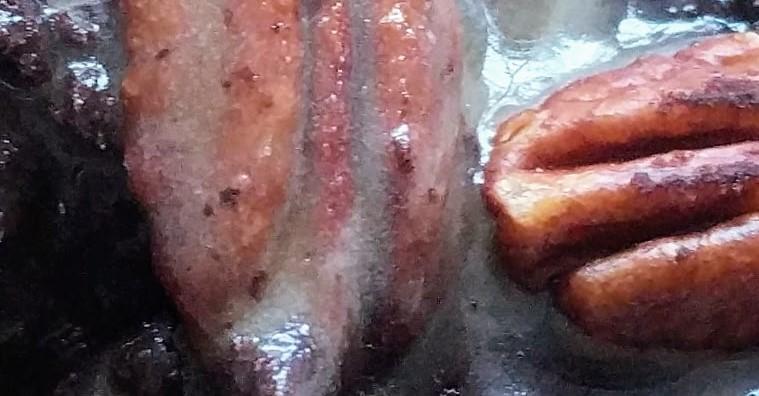 More brownies - now sourdough
Which phrase subtly means "healthy" to you?
gluten-free
low fat
low sodium
no added sugar
vegetarian
with live cultures
low carb
I've believed in most of those during various life phases - these days my "let's pretend this makes it healthy" phrase is sourdough.
So now we have sourdough brownies, along with bread, pizza, pancakes, cornbread, corn-pepper bread, lasagna noodles, etc.
I based my brownies on these from Cooking with Curls, but the recipe posted below includes my tweaks (well, my best guess at them, since I don't measure). They turned out moist and barely sweet, so I did make a caramel sauce (not Cooking with Curls, one I've used before).
We really like chocolate desserts but are wary of sugar, so I skipped any chocolate chips or baking chocolate (which are already sweet) and just used cocoa powder (and extra fat, since cocoa powder has fat stripped away). Baking with cocoa powder gives us complete control over the sugar/sweetener in our many chocolate desserts.
Brownies
1 2/3 cup cocoa powder
1 1/2 cup unsalted butter, coconut oil, or your preferred fat
1/2 cup sugar (if you're sweetening with a pinch of pure stevia, maple syrup, or honey, skip the coffee below so the batter isn't too runny)
1 teaspoon fine sea salt
2 Teaspoons pure vanilla extract
3 eggs (at room temperature)
1/2 cup coffee
1 cup sourdough starter, ideally just-fed
Melt butter/fat and mix in cocoa powder, sugar, salt and vanilla until shiny and smooth. Test temperature before adding eggs (don't want to cook them yet). Add the coffee cold, if possible (or at least not so hot it cooks the eggs) and finally, sourdough starter.
Cook around 20 minutes at about 350 and remove when they no longer jiggle (but still look wet). Really, bake according to your own preferences. We used a 9x13 pan for these and they are pretty thin, so a smaller pan would be fine, too.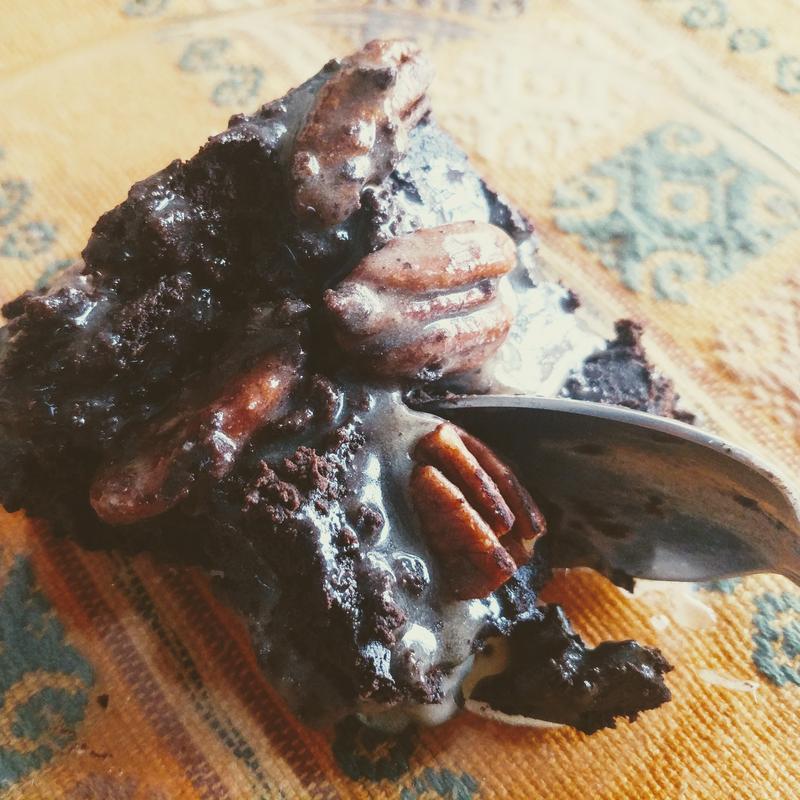 Topping
1 can coconut milk (use half-and-half or a combo of milk and cream if you prefer)
1/3 cup (or more to taste) maple syrup or other sweetener

pinch of salt

2 t vanilla

1 T butter

1 cup toasted pecans
Bring first three ingredients to a boil in thick-bottomed saucepan. Lower to medium-low heat and reduce for 30+ minutes. Gently scrape the bottom every few minutes so nothing sticks for too long. Some burning will taste great, but too much will distract. When it's as thick as you'd like, add the vanilla and butter and let cool.
Sprinkle pecans on brownies, then drizzle or drown in caramel.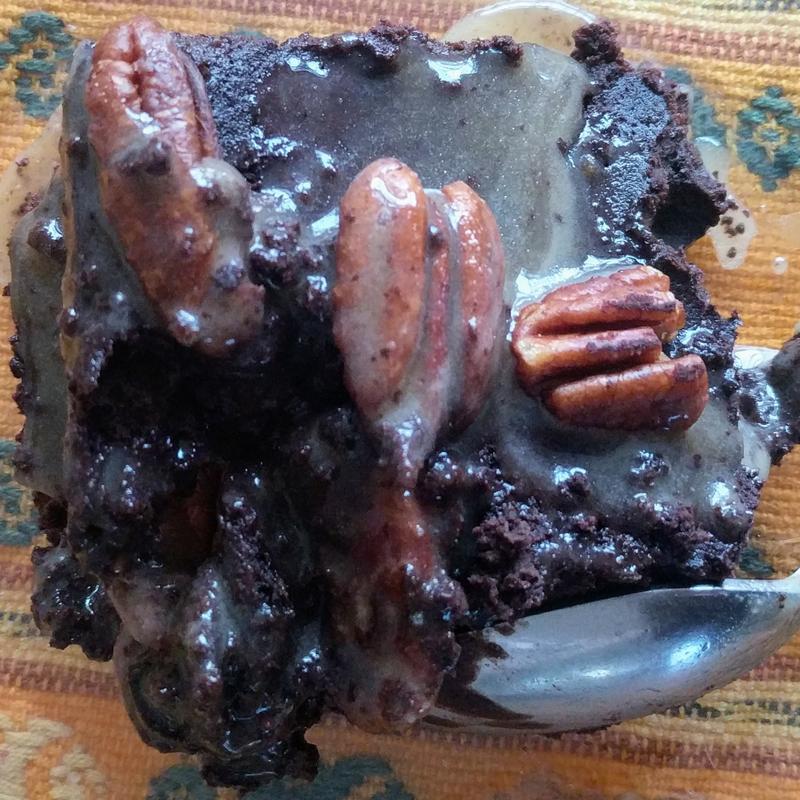 ---
Post a comment: