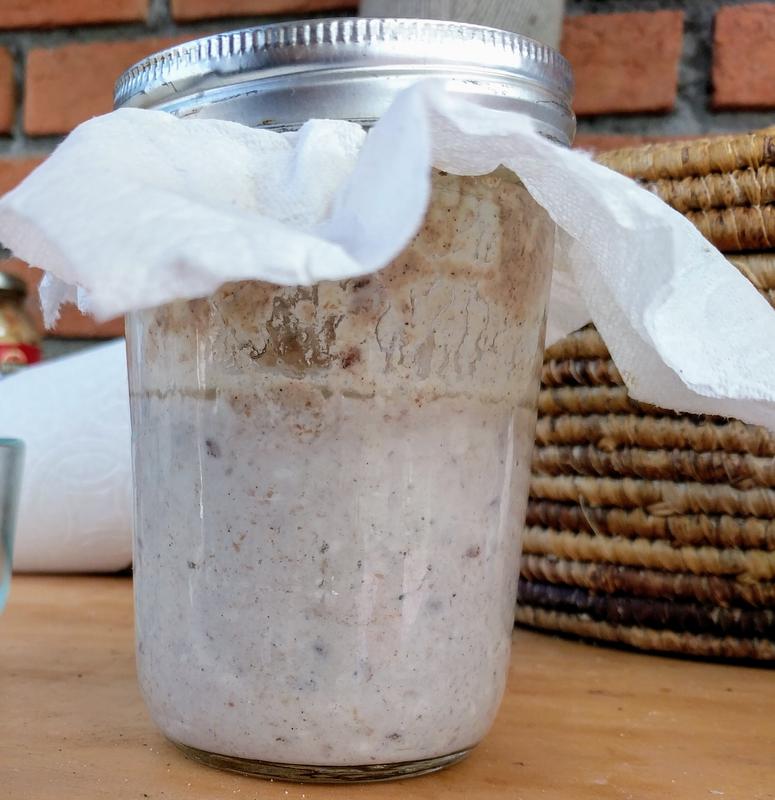 Soaking was a slippery slope to sourdough
With so many delicious, quick ways to eat bread, why bother with the time commitment of rising, waiting, rising, kneading…? We can barely bake in our grill, anyway, so our vanlife bready options are pizza and pancakes. And of course, cakes, brownies, we've even enjoyed (thin) banana bread.
What tipped me into bread-baking is sourdough, since I am willing to make time for ferments - kefir, kombucha, kimchi, etc. At first I thought I'd just adapt our (nearly daily) pancake routine by prepping the night before. Soaking nuts and grains unlocks nutrients and increases digestability. Soaking was a slippery slope to sourdough.
Of course I've been reading Sandor Katz, who taught me most of what I know about cultivating Lactobacillus and other life in our foods.
Though we get sunshine and 70s most days, our nights are in the 30s and 40s, so all ferments are slow. I've been on the same kombucha strain for ~10 years, and it's resilient. Our kefir has suffered, but we can always use half-brews in baking. (Oh the interconnectedness!)
I don't mean to bemoan cold nights - people all over the world have been fermenting foods and keeping sourdough starters for millenia. Mostly people without heated houses. Usually people whose high and low temps varied like ours are.
Think of the Alaskan explorers who kept their sourdough starters alive by taking them to bed! Read Ruth Allman's Alaska Sourdough on that matter. We haven't gone that far, but it hasn't gone below 30F, either!
We're using sourdough starter in our pancakes, with surprising results.
Adding sourdough starter to pizza dough works fabulously.
And our sourdough brownies are excellent - so moist.
I might make sourdough lasagna noodles again, but probably not while we're living in a van. Back to bread: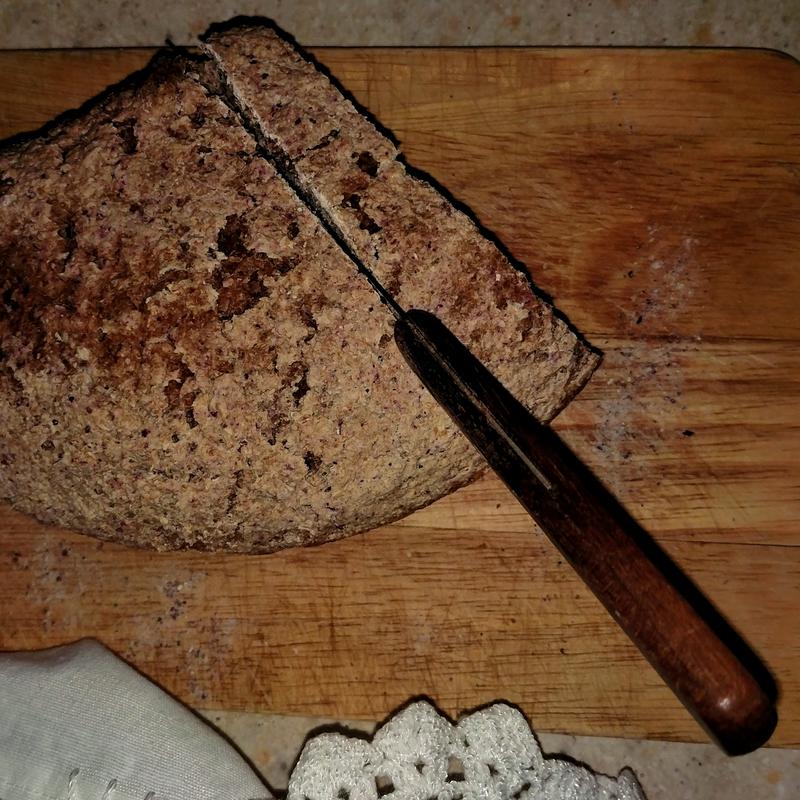 The first bread loves I made with this starter was something like:
1/2 c sourdough starter
2 c water
5 c whole wheat flour
1/2 c cornmeal
1 t salt
1 T sugar
I fed the starter the night before. In the morning I mixed all the above, then let it rest an hour. Then kneaded 1-2 min every hour (or whenever I thought about it) for about 8 hours. I formed it into two loaves and found a pan to rest those in. So they rose into one big loaf - the pan wasn't big enough! That took a half hour or more, and then I put the oven to 400F and baked them - no idea how long, just until they seemed done.
And they were! And they easily became two loaves again.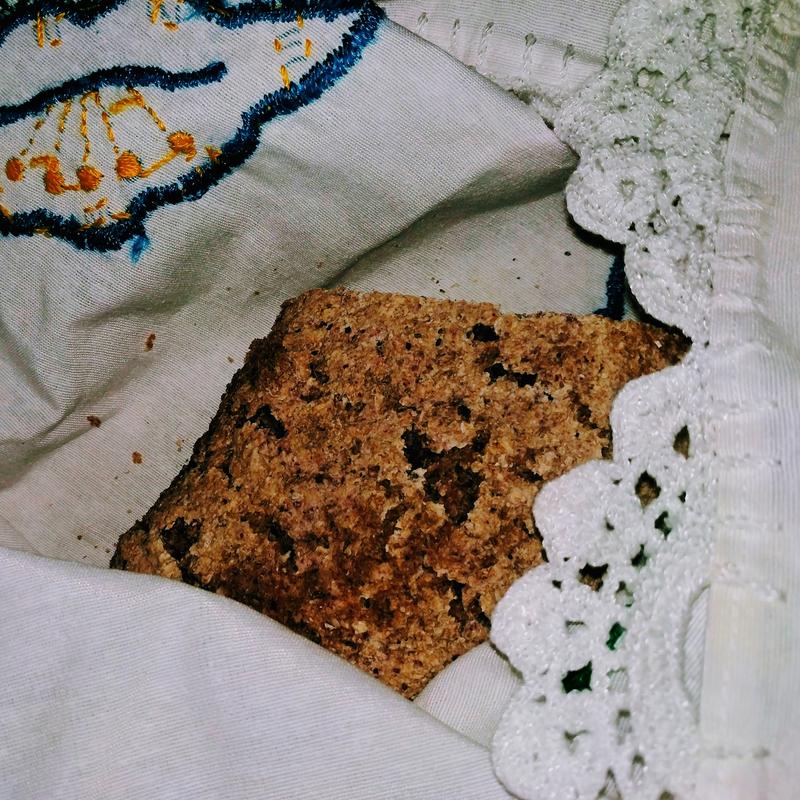 Delicious! On day two we toasted slices, but the bread was good cold, too–even good plain! Though most things are better with jam, or goat cheese and pear.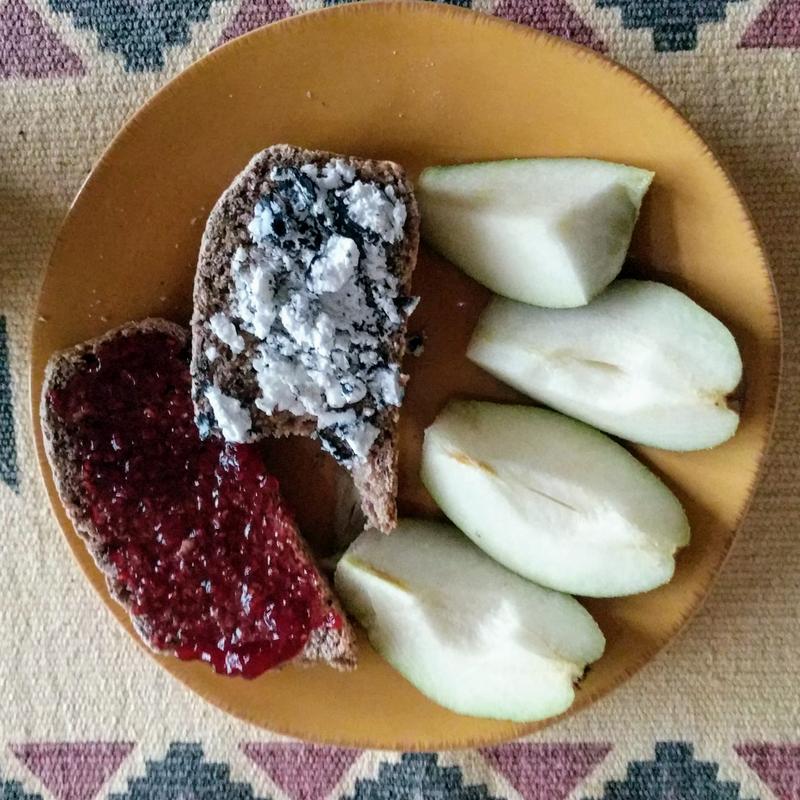 Finally (for now), using kombucha as water in these recipes works, too, and the sourdough is lively.
Since then, I've added oats and nutflours to our bread loaves. A blend of about 1/2 wheat and 1/2 other things works well.
I realize that measuring will be a good idea when making sourdough, since bread dough can seem too sticky/wet at first, but with enough kneading turn out okay. But my inclination is to add flours, and then the bread gets heavy.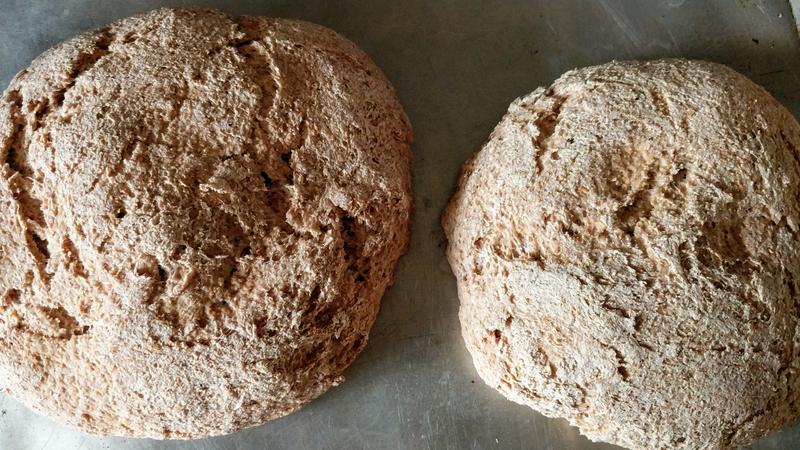 before baking
I'll experiment with proving vessels and a steam plan for the grill. If we're going to go sourdough, let's really enjoy it!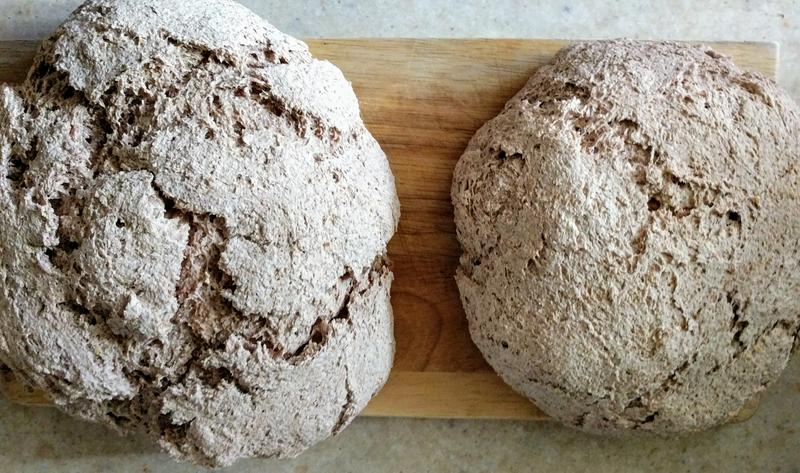 after baking, no impressive crust or rising…yet
---
Comments:
---

February 06, 2019
what is NOT better with goat cheese and pears?!
---
Post a comment: