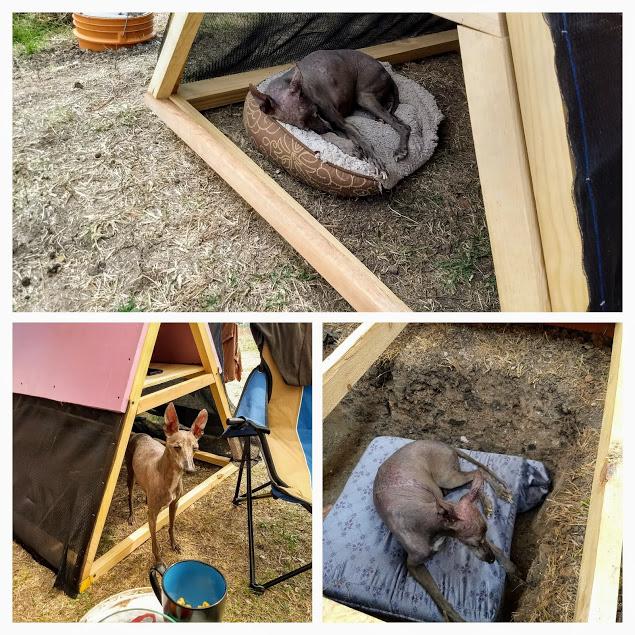 We got chickens! Phillip built the chicken tractor weeks ago. While Max enjoyed it, we did want chickens to abide within.
We'd been warned to buy young chickens, or else we'd end up with 2+ year-old hens, running out of eggs. Still we didn't want to pay to feed chickens for a few months before getting any eggs out of it. But after months of casual looking we could only find adolescents, 5-weeks-old. In three or more months we'll see some eggs.
In the meantime at least we have someone to enjoy our food scraps! (The dogs still get to lick out bowls and eat pepper stems.)
At least now we have gallinas to eat the gallinas ciegas I dig out of our garden beds! Those yucky grubs the size of my thumb that turn into something in the June bug family. Their favorite food is grass root, but they've infested our root vegetable bed, so I cull between the plants once a week. Oh, I'm so excited for our little chickens!
Phillip built the chicken house as a chicken "tractor" which means we can move it around el terreno and the chickens get new places to scratch and leave behind their nutritious poop. If Hannah doesn't eat it all before the earth does.
---
6 Comments:
---

June 24, 2018
So interesting that they ran from the grubs. I bet they'll eventually discover how good they are.
---
June 24, 2018
That is going to be a huge disappointment, if they won't eat the grubs!
---
June 24, 2018
Please, let them grow out of it!
---
June 28, 2018
I don't blame them! I'd want to stick to the other options too. Hope they can find use for any nutrition though!
---
August 08, 2018
Have the chickens started eating the gallinas ciegas yet?
---
August 08, 2018
They sure are! I almost got a video of that today, in fact. I need a few more hands though. Sadly I find gallinas ciegas virtually every time I dig (either "new" ground or garden beds) but happily they come to a redeeming end:-) Grasshoppers are our latest pest and they're hard for me or chickens to catch.
---
Post a comment: