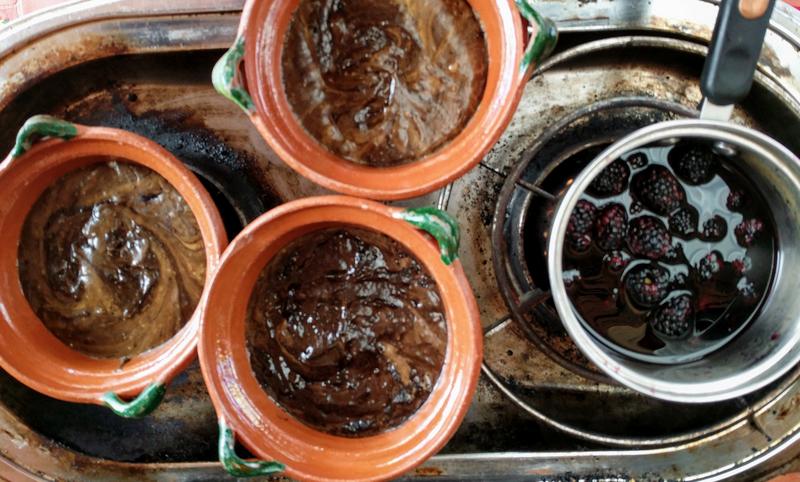 Pretty in pink chocolate cake
We've got a new favorite adult chocolate cake recipe (though we still love this one, too).
We adapted the recipe from Simone Balder's book Cupcakes with a Kick.
CAKE
1 cup of your preferred fat: butter, olive oil, coconut oil. etc (we used olive oil and butter)
3/4 cup sugar (originally 1 cup, you know how sweet you like things)
4 eggs
1 t vanilla extract
2 1/4 cups cake flour
1/2 t salt
2 t baking powder
1/2 cup red wine (we used Merlot)
2 T-1/2 cup cocoa powder (depending on how intensely chocolate you're craving)
2 T red wine for soaking into cake once baked
ICING
1 cup blackberries (if frozen, defrost in advance) and set aside ~20 whole blackberries (pick out the prettiest ones)
1/2 cup red wine
1/3 cup butter (or other fat)
2 cups sifted confectioner's sugar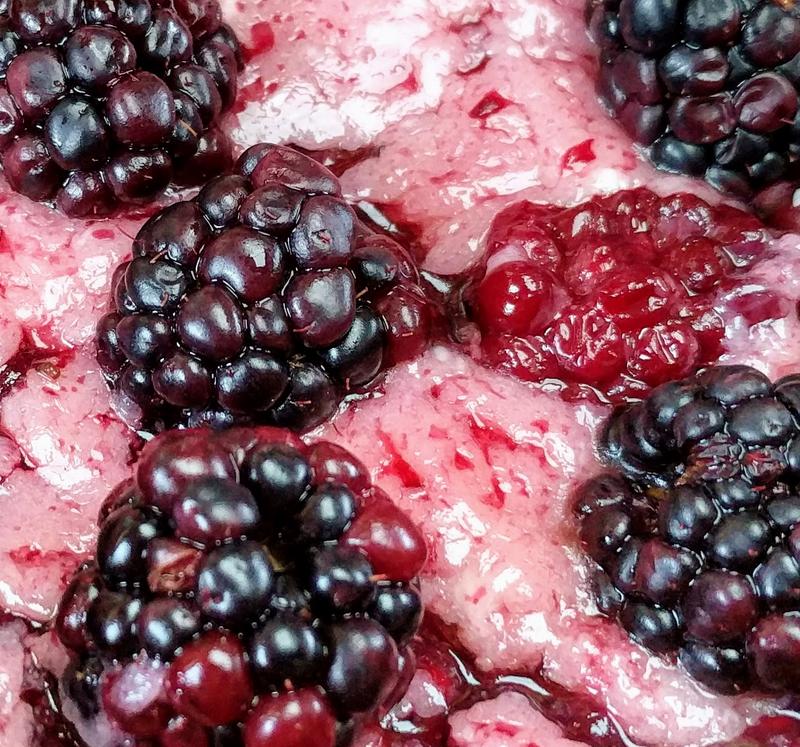 Preheat your oven to 350F and line 24 cupcake molds or muffin tins with paper liners, or prepare 9x9 pan.

Cream butter, sugar and eggs until smooth and creamy. Add the vanilla and mix well again.

In a separate bowl sift the flour, salt and baking powder together and add to the creamed wet mixture. Add the red wine and combine but take care not to overmix. Finally, add the cocoa pow- der and beat one last time.

Using a large spoon, carefully fill each of the cupcake liners to about 3/4— full or pour into cakepan. Bake until a toothpick inserted into the center of the cupcake comes out clean. Leave to cool slightly for about 5 minutes before turning out onto a rack.
(If you're baking in a grill and running low on propane, consider finishing the baking in a solar oven/dehydrator.)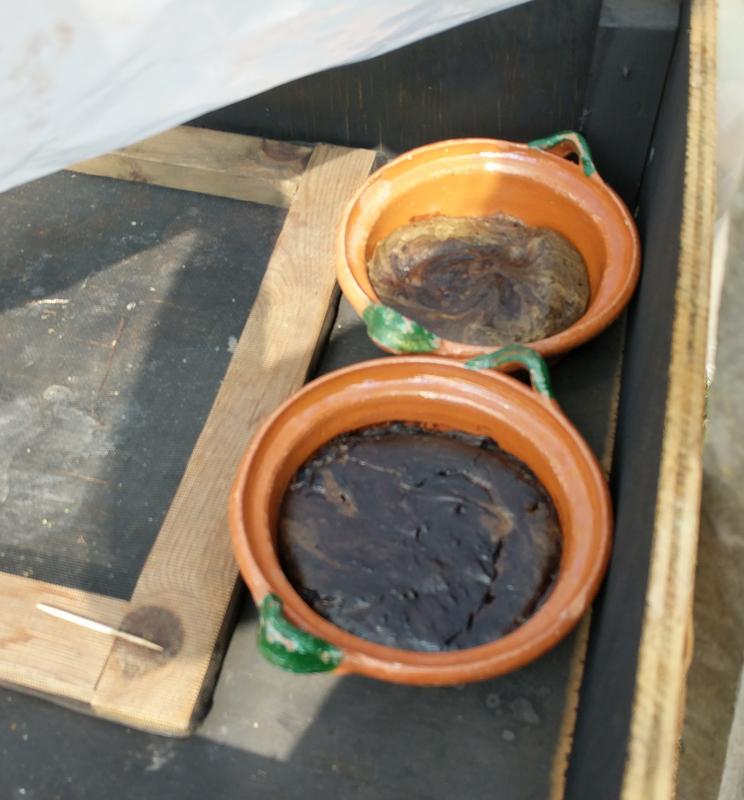 When the cup/cakes are completely cool, brush the 2 T of red wine on top of the cakes and allow to soak in. Set aside.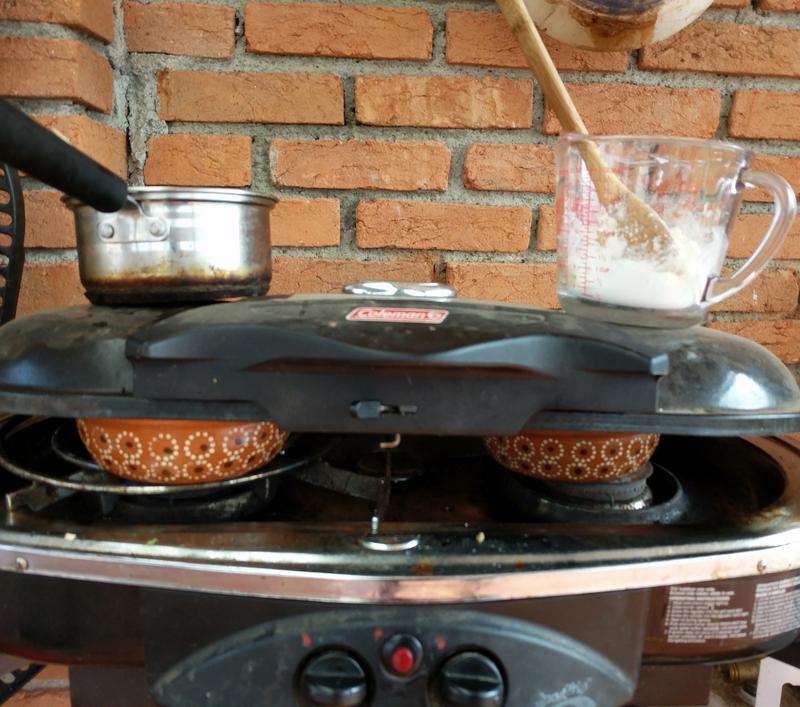 For icing, place the remaining blackberries (after selecting the best for decoration) in a saucepan together with the wine and bring to a simmer. Reduce this until the black- berries are very soft and the wine is quite syrupy. Remove from the heat and sieve the mix, pressing the seeds to remove all the juice. This mix should be a little less than a 1/4 cup. (I was too lazy and just smooshed the berries.)

Cream the butter well and gradually add the confectioner's sugar. Add the blackberry sauce. This icing should be a little soft.

Ice, then decorate with berries.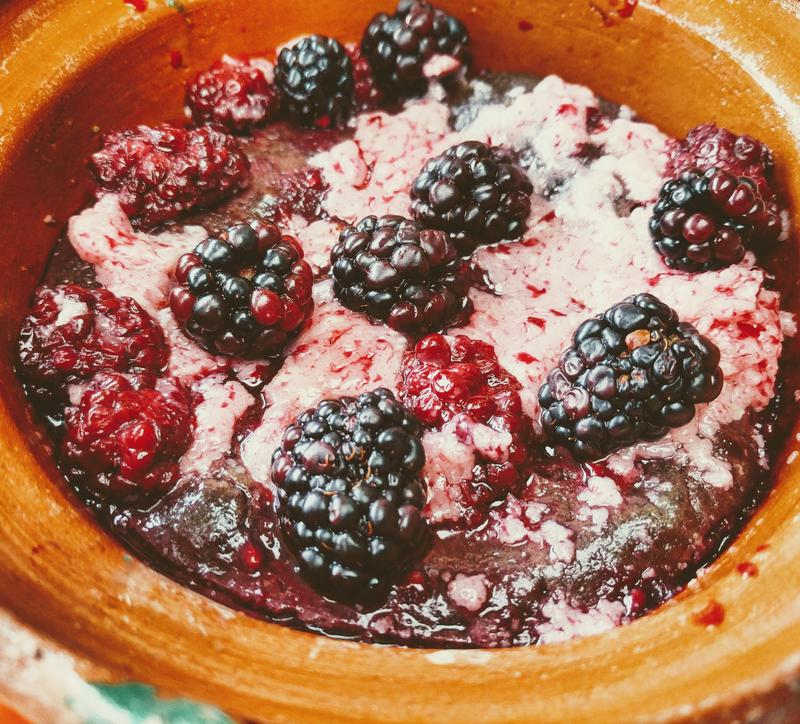 Update On the second baking (in a house with an oven!) I tried much less cocoa - not the measly 2 T of the original recipe, but perhaps 4T. See how much lighter the cake is?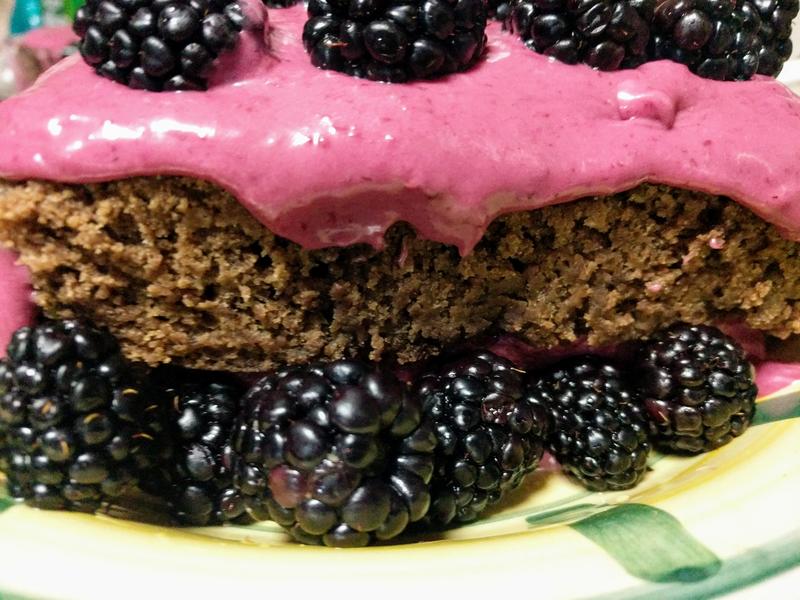 Somehow I also used way less sweetener, and the cake came out tasting more like bread than cake! So I added cream cheese to the icing to thicken it (tastes and looks fabulous) and turned it into a layer cake. This means a higher icing:cake ratio, so it turns back into dessert. I prefer our original version, but this is delicious too!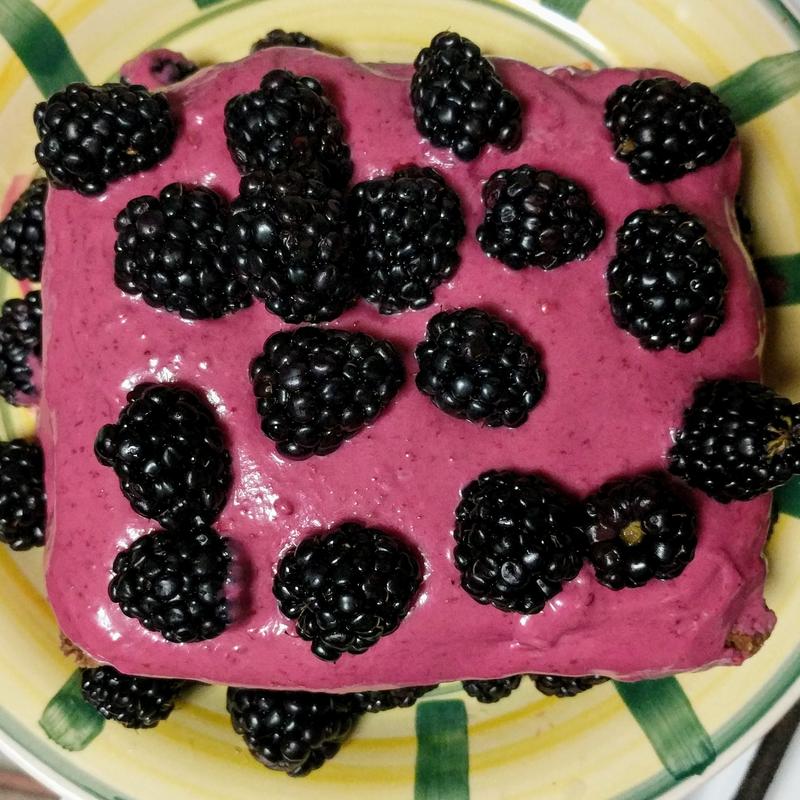 You might be able to tell that I used a blender for the icing on this round, and the texture is great. I didn't bother straining out seeds for either cake - why bother when putting fresh (seed-filled) berries on the cake?
---
3 Comments:
---

January 24, 2019
i hope this is on the menu when I visit!
---
January 26, 2019
I'll take any excuse! We shared it with Stan and Edith before they left, and met with approval, so I decided that was an excuse to make it again the day they come back, to enjoy it baked in a "normal" oven. So…any excuse:-)
---
February 04, 2019
Made the cake again (in a real oven) and somehow way undersweetened it. So I turned it into a layer cake to incorporate more icing, and to get the icing firm enough, added cream cheese. Turned out! And the pink is way fun - looks fake. Will post pics.
---
Post a comment: