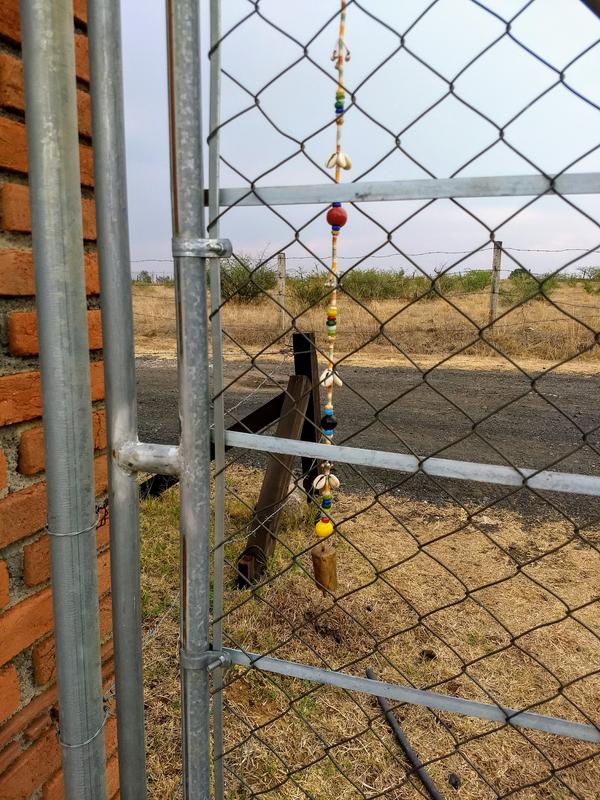 When we first moved onto El Terreno we expected our stuff would get stolen, repeatedly. But we've only had one theft in four months!
Our friends the Khares gave us this beautiful home blessing that we've enjoyed in Indiana, Pennsylvania and now Mexico. When we moved into a trailer we gave away/stored paintings, stained glass, framed photos and pretty much all of our decoration. But this space-efficient, trailer-friendly bead-and-bell hanging traveled with us from India, even into the van.
We can't see the gate from the places we spend most of our day (van, kitchen, most of the gardens) so we don't know when people are trying to visit. We hung this "doorbell" at the gate and people used it! But it was a bit too quiet. Rattling the heavy chain that secures the gate is the best way to let us know you're here (do you feel ready to visit us, now?)
A couple weeks ago we realized the beads-and-bell had been stolen. The winds can be ferocious; couldn't it just be in the ditch? Nope, it's gone for good.
We're certainly sad to lose this charming gift. And we're relieved that no one has broken into the van, stolen our food or kitchen supplies, taken our bikes or messed with the chicken tractor. This was the most convenient item to take, but nothing we own is secure. We had a master plan for hiding valuables - stay tuned to read about that huge flop!
---
Comments:
---

August 13, 2018
:-(
---
Post a comment: