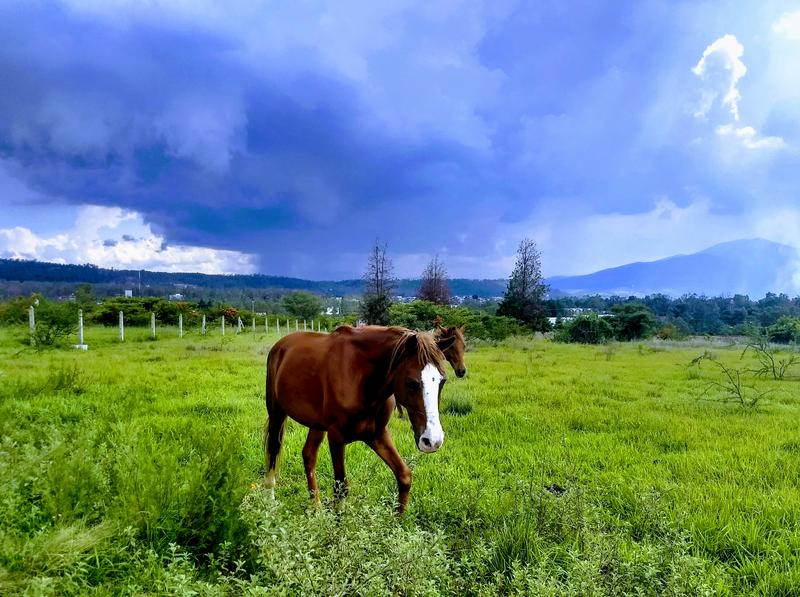 I figured we'd be forced into Spanish language proficiency by living in Mexico. Immersion, right?
Not at all. Most days we talk to each other. Our nextdoor neighbors speak fluent English. Uncle Stan, of course, and many of his colleagues are fully bilingual. The people we have to speak Spanish with are: Edith (Stan's partner), store clerks, people we pass in the road, Janet (with the pool and pears)
Entonces on average we have one serious Spanish conversation per week; the rest is passing chit-chat.
I am disappointed that we haven't learned more Spanish, but still reach for English-lanugage audiobooks (currently John Steinbeck's Travels with Charley) and podcasts (Democracy Now; Wait, Wait Don't Tell Me; 99% Invisible, and so many more) rather than Spanish options when weeding, watering, washing, walking…when I force myself to do the "right" thing and listen to Spanish, I've found that my mind quickly wanders and I'm not learning. No surprise: language-learning cannot be multi-tasked.
But we are learning the language of our neighborhood, hiking 3-4 times a week up the road (up, as in, up the hill and away from the city) until the road becomes a cowpath and joins arroyos and horse trails wandering over and around heaven.
We're learning the weather, as we watch it rain over Morelia and wonder if we should hurry home - then three minutes later the rain is gone.

Then twenty minutes later it's back over Morelia. And then an hour later it rains on us and the mountain.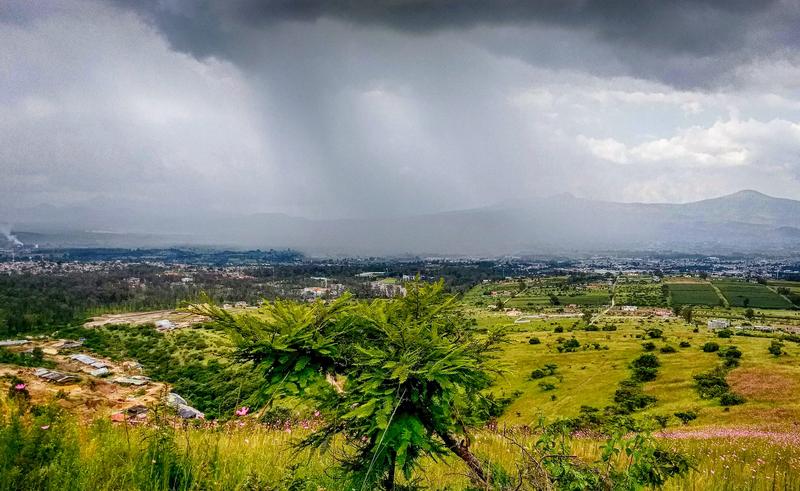 Horse speak This young horse is my friend now, and greets me when we come and go to UNAM.
There are friendly horses on the farm next door - we rarely talk to them but share [way too many] rats and flies.
I'd like to befriend the herd of (wild? semi-wild?) horses that we see on hikes up the hill.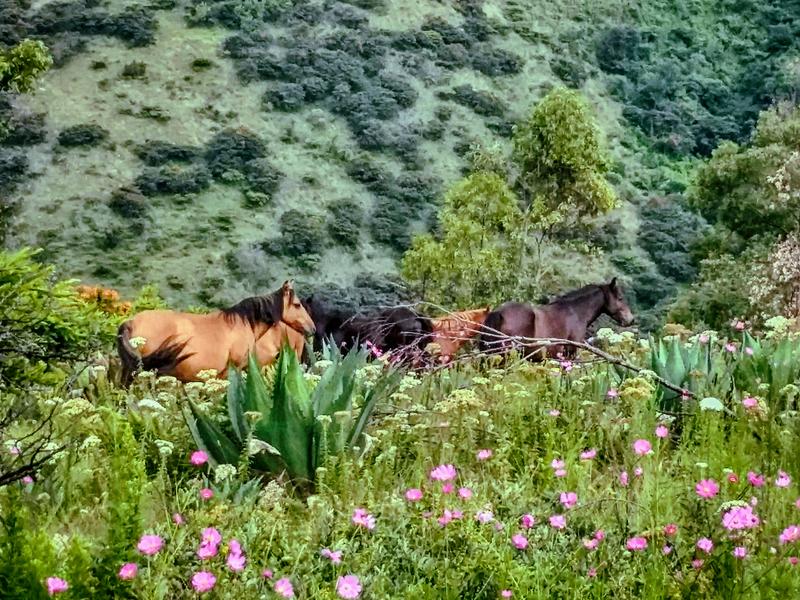 Doesn't seem like anything worth money would be left alone on the mountainside, but they're skittish at 30m and I've never seen a person with them.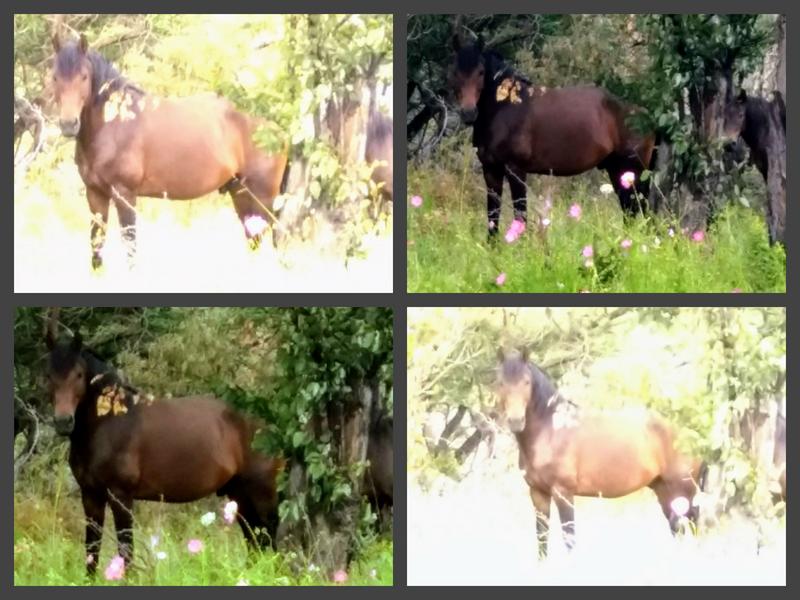 More videos of our hikes on my youtube channel annalisagross
Finally, learning the language of species identification. It started with wanting to know which bugs were helpful in the garden, and which I should feed to the chickens. Searching online was minimally helpful. Have you found good apps? I like PlantNet's interface, but no one has commented on my contributions after months of use. Now I'm on iNaturalist, with an active community, including a couple people using it in Morelia! (No one was posting from Mexico on PlantNet) But the interface often fails me (duplicates photos, e.g.)
Another perk: iNaturalist works for all life, which I learned by posting this photo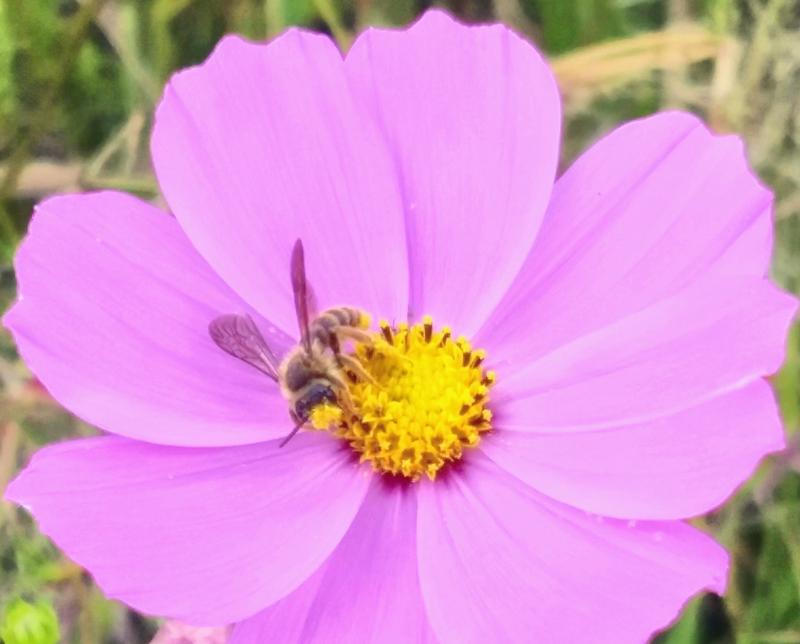 and the app suggesting both Western Honey Bee and Garden Cosmo.
I keep saying I'll post photos of Max so we can finally find out what he is.
---
4 Comments:
---

September 28, 2018
that blue sky at the top of this post - was it really that color? it's amazing!
---
September 28, 2018
Real! I wish our cameras could do justice to the skies here, but at least this one turned out.
---
October 01, 2018
Very interesting, Anna Lisa, I really enjoy your posts. Wild horses, wow.
---
January 11, 2019
I agree. That top photo is particularly gorgeous. I'm catching up on your blog, going backwards… :) And I got over my block about commenting on your blog, perhaps obviously. :)
---
Post a comment: